Like most nuts, coconuts contain significant amounts of fat, but unlike other nuts, which contain mostly long-chain polyunsaturated fatty acids, coconuts provide fat that is almost all in the form of health-promoting medium chain saturated fats. Fresh, mature coconut meat contains more than 50 percent water and approximately 35 percent coconut oil, 10 percent carbohydrates, and 3.5 percent protein. 1-cup of the nutmeat provides approximately 500 calories. Fresh coconut milk provides about 600 calories per cup and is composed of 67 percent water, 25 percent coconut oil, 5 percent carbohydrates, and 3 percent protein. Dried or creamed coconut meat provides nearly 900 calories per cup and is composed of 65 percent fat, 23 percent carbohydrate, and 7 percent fat.

Coconuts are an excellent source of manganese, molybdenum, and copper. A 2-by-2- by-5-inch piece provides 0.68 mg of manganese (38 percent of the recommended daily intake), 13.28 mcg of molybdenum (30 percent of the RDI), and 0.2 mg of copper (22 percent of the RDI). Coconut is also a good source of selenium and zinc, with the same size piece of coconut meat containing 4.54 mcg of selenium (8 percent of the RDI) and 0.5 mg of zinc (6 percent of the RDI).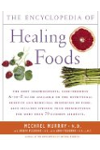 More About this Book
Encyclopedia of Healing Foods
From the bestselling authors of The Encyclopedia of Natural Medicine, the most comprehensive and practical guide available to the nutritional benefits and medicinal properties of virtually everything...
Continue Learning about Nutrition