Quinoa incorporates quite a lot of nutrients into tiny seeds. It contains more protein than most grains and offers a more evenly balanced array of amino acids, the building blocks of protein. Quinoa is also higher in phosphorus, magnesium, copper, zinc and iron than most grains. Quinoa, like soy is a complete plant protein because it contains all 8 essential amino acids. It is a good source of magnesium, which plays a role in relaxing blood vessels. Potassium, a key mineral in heart health is also present in good quantities in Quinoa. It also contains fiber, which aids with digestion. Be sure to include this nutritional powerhouse in your diet whenever possible.
Quinoa can help reduce cholesterol: In a 2010 study (1) conducted in the Netherlands, rats bred to have high cholesterol were fed quinoa. These rats were also fed a high fructose diet that should further increase their harmful cholesterol (LDL) levels. After quinoa was introduced to the diet, the detrimental effects of the cholesterol and fructose began to reverse and cholesterol levels were returning to normal.

Quinoa is high in riboflavin: Riboflavin is a member of the B-vitamin family, which has been shown in recent studies (2) to aid in the elimination and prevention of migraine headaches by improving the transport of oxygen into the cell. This prevents migraines from occurring and aids in their relief.

Quinoa's high magnesium content promotes cardiovascular health: Magnesium (3) has been the subject of many studies for its role in preventing hypertension through its ability to relax the small muscles that clamp down on our blood vessels. Recent research has also shown that a deficiency in magnesium actually increases the hormone (angiotensin II) that is responsible for increasing blood pressure, so magnesium has a two-fold effect on our heart health.
---------------
(1) http://www.ncbi.nlm.nih.gov/pmc/articles/PMC2998641/?tool=pubmed
(2) http://www.ncbi.nlm.nih.gov/pmc/articles/PMC3004646/?tool=pubmed
(3) http://hyper.ahajournals.org/content/23/6/1036.full.pdf+html
A very good source of magnesium and manganese, quinoa contains thrice as much magnesium as calcium. It is also a very fine protein source and possesses healthy levels of vitamins B2, vitamin E, and dietary fiber. It is also a good source of the minerals iron, phosphorous, copper, and zinc.

Quinoa is a fantastic wheat- and gluten-free choice, probably the least allergenic of the grains. Like buckwheat, quinoa has an excellent amino acid profile, not only because of its absolute high protein content but also because it contains all the essential amino acids. Quinoa is an excellent protein source for vegans.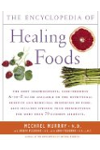 More About this Book
Encyclopedia of Healing Foods
From the bestselling authors of The Encyclopedia of Natural Medicine, the most comprehensive and practical guide available to the nutritional benefits and medicinal properties of virtually everything...
Continue Learning about Nutrition