Soluble fiber is a subclass of fiber, which itself is a group of carbohydrates. This type of fiber dissolves in the watery contents of the digestive tract, where it becomes a thickened, gel-like consistency. This fiber is associated with lower cholesterol and lower glucose levels because it can reduce the speed at which food leaves the stomach.

Soluble fiber dissolves in water to create a gummy or gel-like consistency. Its touted for it's potential role in improving heart health by helping to lower total cholesterol levels and regulating blood sugar levels.

It's found naturally in many foods including dried beans and peas, oats, barley, psyllium, carrots, citrus fruits and apples. You may also see soluble fiber appear on food labels as gums, mucilages and pectin.
A well-balanced diet should include both soluble and insoluble fiber. Soluble fiber swells in your stomach, provides bulk to foods, and keeps you feeling full. Insoluble fiber speeds up the passage of materials through the digestive tract. Increasing your intake of foods high in total fiber will provide you with ample amounts of both types.
There are two types of fiber, soluble and insoluble. Soluble fiber breaks down in the GI tract and forms a gummy like substance. Soluble fiber is good for lowering cholesterol and helping to regulate blood sugar. Insoluble fiber does not break down but moves on through the digestive tract and is great for aiding elimination. Some good sources of soluble fiber would be beans, legumes, oatmeal, barley and some citrus fruits.
Dietary fiber is plant material that is normally left undigested after passing through the body's digestive system. Food sources of dietary fiber are often classified according to whether they contain predominantly soluble or insoluble fiber. Plant foods usually contain a combination of both types of fiber in varying degrees, according to the plant's characteristics.
Soluble fiber, found in all plant foods, dissolves in water to form a gel-like substance. It is readily fermented in the colon and includes other plant components such as lignans, oligo- and polysaccharides, resistant starches, and inulin. Soluble fiber also promotes soft and bulky stools, delays gastric emptying, and binds with bile acids, helping to lower cholesterol levels. Foods that are considered good sources of soluble fiber include: oat bran, guar gum, dried beans and peas, apples with skin, seaweeds, and flaxseeds.
Lignans, a soluble fiber found in flax seeds, wheat, and legumes, are known to possess anticancer, antibacterial, and antiviral properties. They bind to estrogen receptors in the body, interfering with cancer promotion and helping to regulate estrogen levels. Soluble fiber also promotes a delay in the absorption of glucose and increases insulin sensitivity, resulting in improved glucose metabolism, ultimately helping to lower the risk of type 2 diabetes.
Inulin is another soluble fiber that is not digested in the upper GI tract. Low in calories, inulin stimulates the growth of beneficial bacteria, and does not lead to a rise in serum glucose or stimulate insulin secretion. Inulin has been used to improve the taste of low fat foods. Fructo-oligosaccharides (FOS) are one of the most common examples of inulin. FOS has a sweet, pleasant flavor and can be used to fortify foods with fiber, to improve the flavor of low calorie foods, while improving the texture of lower fat foods. Because these fibers stimulate the growth of beneficial bacteria, they are also called prebiotics. Besides FOS, good sources of inulin include: artichokes, garlic, leeks, onions, chicory, tofu, and other soy products, and grains such as barley, flax, oat, and wheat.
The majority of fibers in most plant cell walls are water-soluble compounds. Included in this class are hemicelluloses, gums, mucilages, pectin, and algal polysaccharides. It is these fiber compounds that provide the most beneficial effects.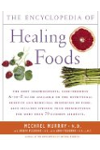 More About this Book
Encyclopedia of Healing Foods
From the bestselling authors of The Encyclopedia of Natural Medicine, the most comprehensive and practical guide available to the nutritional benefits and medicinal properties of virtually everything...
Continue Learning about Nutrition