Found in apples, pectin is a form of soluble fiber that lowers glucose levels and blood pressure. It also maintains the health of the digestive system and lowers the body's levels of LDL, or "bad" cholesterol.
Pectins are found in all plant cell walls as well as in the outer skin and rind of fruits and vegetables. For example, the rind of an orange contains 30 percent pectin, an apple peel 15 percent, and onion skins 12 percent. The gel forming properties of pectin are well known to anyone who has made jelly or jam. These same gel-forming qualities are responsible for the cholesterol-lowering effect of pectin. Pectin lowers cholesterol by binding the cholesterol and bile acids in the gut and promoting their excretion.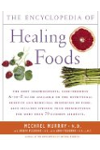 More About this Book
Encyclopedia of Healing Foods
From the bestselling authors of The Encyclopedia of Natural Medicine, the most comprehensive and practical guide available to the nutritional benefits and medicinal properties of virtually everything...
Continue Learning about Nutrition