To use the word healthy, companies must meet certain Food and Drug Administration (FDA) regulations per serving size. Some companies have been accused of increasing the number of serving sizes per product, rather than change the ingredients. If a person eats the entire jar or drinks the whole bottle, it would not meet the regulations. Manipulating the serving size is, by some experts, the most dangerous problem in food-labeling confusion. We've all eaten an entire can of soup thinking it's all one serving. But if you look closely, the nutrition label on the back might say otherwise -- and it may even list a strange 2.5 servings for two and a half people. So at the end of the can, you've downed more than twice the number of calories and probably maxed out your sodium needs for the entire day -- not a good thing for balance and energy.

Similarly, fruit snacks might display a shower of berries and bananas on the label, which reads "naturally fruit flavored," but you'd be hard-pressed to find any real fruit in the ingredient list. Remember, a food shouldn't have to tell you what it is -- as in "healthy" or "food" -- so if it does, then it likely isn't telling you the whole story, but rather telling you their story. It should be illegal for companies to use words such as healthy, lean, or light unless those foods adhere to a clear set of nutrition principles. In England, for example, food manufacturers aren't allowed to use the term superfood without meeting certain science-based criteria. Clearly, such terms have a lot of marketing power.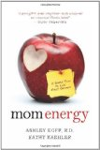 More About this Book
Mom Energy: A Simple Plan to Live Fully Charged
       From celebrated dietitian Ashley Koff and fitness trainer to the stars Kathy Kaehler comes Mom Energy, an exciting new way for moms to tap into their own natural and renewable sources of...
Continue Learning about Nutrition