Wild or sustainably farmed low-mercury seafood such as clams, crab, flounder, herring, oyster, perch, pollock, salmon, sardines, shrimp, sole, squid, trout and whitefish are healthy to eat. Avoid fish that are high in mercury, such as tuna, swordfish and Chilean sea bass. Go to the national resources Defense Council website (www.nrdc.org) and download their Sustainable Seafood Guide to choosing the fish lowest in mercury. More About this Book
The Blood Sugar Solution 10-Day Detox Diet Cookbook: More than 150 Recipes to Help You Lose Weight and Stay Healthy for Life
The companion cookbook to Dr. Mark Hyman's revolutionary weight-loss program, the #1 New York Times bestseller The Blood Sugar Solution 10-Day Detox Diet, with more than 150 recipes for immediate results! Dr. Hyman's bestselling The Blood Sugar Solution 10-Day Detox Diet offered readers a step-by-step guide for losing weight and reversing disease. Now Dr. Hyman shares more than 150 delicious recipes that support the 10-Day Detox Diet, so you can continue on your path to good health. With easy-to-prepare, delicious recipes for every meal - including breakfast smoothies, lunches like Waldorf Salad with Smoked Paprika, and Grass-Fed Beef Bolognese for dinner -- you can achieve fast and sustained weight loss by activating your natural ability to burn fat, reducing insulin levels and inflammation, reprogramming your metabolism, shutting off your fat-storing genes, creating effortless appetite control, and soothing stress. Your health is a life-long journey. THE BLOOD SUGAR SOLUTION 10-DAY DETOX DIET COOKBOOK helps make that journey both do-able and delicious.
The following is a list of top fish to buy, many of which are rich in healthy fats that you won't find in other foods to the same degree. Unless otherwise noted, aim for wild-caught, sustainably sourced varieties:
Abalone (U.S. farmed)
Anchovy
Bigeye (troll or pole caught)
Black cod
Catfish (U.S. farmed)
Clams (farmed)
Dungeness crab
Halibut
Herring
Hoki
Mackerel
Mussels (farmed)
Oysters (farmed)
Rainbow trout (U.S. farmed)
Rock lobster
Sablefish (from Alaska or British Columbia)
Salmon (from Alaska or British Columbia)
Sardines
Squid (from California)
White sea bass
Tilapia (U.S. farmed)
Tuna (troll or pole caught albacore and yellowfin)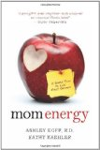 More About this Book
Mom Energy: A Simple Plan to Live Fully Charged
       From celebrated dietitian Ashley Koff and fitness trainer to the stars Kathy Kaehler comes Mom Energy, an exciting new way for moms to tap into their own natural and renewable sources of...
Typically cold water fish with higher amounts of fat will provide more health benefits from omega-3 fatty acids, a heart-healthy fat. Smaller fish are preferred due to the reduced risk of mercury contamination. Be careful with fish such as orange roughy, marlin, and swordfish. These fish contain higher amounts of mercury and provide little omega-3s – less than 6 milligrams per gram of fish. Anchovies, sardines, salmon, and albacore tuna are considered safer fish with higher amounts of omega-3s – about 15 milligrams per gram of fish.
Continue Learning about Nutrition