How quickly blood sugar levels rise after eating a particular type of food is an effect referred to as the food's glycemic index, or GI. The GI is a numerical scale used to indicate how fast and how high a particular food raises blood glucose (blood sugar) levels. There are two versions of the GI, one based on a standard of comparison that uses glucose scored as 100, while the other is based on white bread. Foods are tested against the results of the selected standard. Foods with a lower glycemic index create a slower rise in blood sugar, while foods with a higher glycemic index create a faster rise in blood sugar.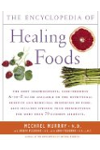 More About this Book
Encyclopedia of Healing Foods
From the bestselling authors of The Encyclopedia of Natural Medicine, the most comprehensive and practical guide available to the nutritional benefits and medicinal properties of virtually everything...
Continue Learning about Nutrition