Micronutrients are all the vitamins, minerals, trace elements, and other chemicals we need in small quantities (hence, micro) to grow, develop, and function properly. Since the body cannot make micronutrients, we must get them from tap water (the largest source), food, or dietary supplements. So eat the colors of the rainbow (lots of fruits and veggies), 100% whole grains, lean proteins, and healthy fats.
And don't forget Dr. Mike's Fab Five:
Take 600 milligrams (mg) of calcium with 200 mg of magnesium once a day.
Take 900 mg of DHA (preferably algae-based) daily.
Take 1000 IUs vitamin D3 daily with your DHA.
Take half a multivitamin in the morning, and half at night.
Take a probiotic daily, and wash it down with an eight-ounce glass of tap water before and after.
Micronutrients are nutrients, including vitamins and minerals that are needed in only small amounts. Regular exercise may increase our need for vitamins and minerals, which serve a variety of roles in energy production, the synthesis of hemoglobin (the part of blood that carries oxygen), bone health, immune function, muscle building after exercise, and protection from oxidative damage. (Oxidative damage occurs because our cells produce substances called "free radicals" when working or harmed, and these hurt the surrounding cells.) Just as with the macronutrients, insufficient intake of micronutrients affects your daily life and athletic performance.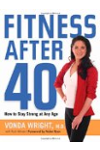 More About this Book
Fitness After 40: How to Stay Strong at Any Age
It's one of the undeniable facts of life. After we reach a certain age, our bodies change. No matter how fit we may have been at 20, we're very different people after 40. But growing older doesn't...
Micronutrients are chemical compounds that are needed in small quantities but play a vital role in regulating how our bodies work on a cellular and chemical level. Vitamins and minerals are the two major types of micronutrients, and are best found in a variety of nuts, seeds, leafy green plants and diversely colorful fruits and vegetables.

The best source of micronutrients is real whole food -- not overly processed foods or even supplements.
Continue Learning about Nutrition