If you want to be healthy, start to make changes in your diet in a way that feels right for you. Remember, you're creating a lifestyle change, one that you'll keep for the rest of your days. Your reward for making this change is twofold:
A healthy body that stays at a natural weight.
Freedom -- you won't have to struggle and suffer over feeling out of control around food.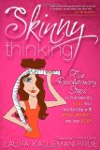 Continue Learning about Nutrition