Some nutrients are not considered essential in the same manner that vitamins and minerals are. Among these are amino acids and their derivatives -- essential fatty acids, phospholipids, compounds that exert "vitamin-like" activity, and substances that are part of normal physiology. More and more research indicates that accessory nutrients, although most are not considered "essential" in the classical sense, play a major role in preventing and treating illness.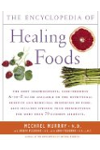 More About this Book
Encyclopedia of Healing Foods
From the bestselling authors of The Encyclopedia of Natural Medicine, the most comprehensive and practical guide available to the nutritional benefits and medicinal properties of virtually everything...
Continue Learning about Nutrition