Silicon is responsible for cross-linking collagen strands, thereby contributing greatly to the strength and integrity of the connective tissue matrix of bone. Since silicon concentrations are increased at calcification sites in growing bone, this process may be dependent upon adequate levels of silicon. It is not known whether the typical American diet provides adequate amounts of silicon. In patients with osteoporosis, or where accelerated bone regeneration is desired, silicon requirements may be increased. Although no official RDA for silicon has been set, 20 to 50 mg per day has been recommended to meet fundamental requirements. An increased need for silicon is best met by increasing the consumption of unrefined grains, as they are a rich source of absorbable silicon (silicic acid).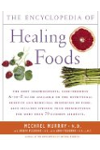 More About this Book
Encyclopedia of Healing Foods
From the bestselling authors of The Encyclopedia of Natural Medicine, the most comprehensive and practical guide available to the nutritional benefits and medicinal properties of virtually everything...
Continue Learning about Nutrition