Nuts and seeds have long been used as a source of oils for culinary, medicinal, and cosmetic purposes. For culinary purposes, oils can be used in salad dressings and sauces, in baking, and in cooking. Some oils offer advantages over others for certain applications. For example, olive, macadamia nut, coconut, sesame, and canola oil are more stable than other oils, so they are preferred for use when exposing foods to heat. Canola oil is made from rapeseeds by removing a toxic oil called erucic acid. This oil has gained incredible popularity in a short time because it is being promoted for its high level (7 percent) of omega-3 oils. Highly polyunsaturated oils, such as flaxseed, safflower, soy, and sunflower, are not recommended if they are going to be exposed to heat because the heat changes the chemical structures of the fatty acids and forms free radicals. These oils are best suited for salad dressings. Still other oils are best avoided altogether, specifically, trans-fatty acids, partially hydrogenated oils, and cottonseed oil.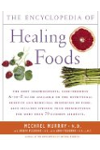 More About this Book
Encyclopedia of Healing Foods
From the bestselling authors of The Encyclopedia of Natural Medicine, the most comprehensive and practical guide available to the nutritional benefits and medicinal properties of virtually everything...
Continue Learning about Nutrition