Brain fog is becoming an increasing problem in our society. The B vitamins, especially B1 and B12, are critical for mental clarity. Inositol also helps promote being calm and can be especially helpful for those who are anxious. Many amino acids (proteins) are critical for adequate neurotransmitter levels (e.g., serotonin, dopamine, and epinephrine). Deficiencies of these amino acids and neurotransmitters, as well as many vitamins and minerals, can commonly cause depression. I suspect you will be amazed at how much happier you feel when you get adequate nutritional support.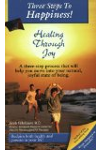 More About this Book
Three Steps to Happiness! Healing Through Joy
Happiness is our natural state of being. It is who we are. This happiness is obvious when you look at little children before they take on society's beliefs. Their natural state is to feel all of...
Continue Learning about Nutrition

Eating a variety of foods each day that are low in fat and calories ensures you get proper nutrition and nutrients like folate, magnesium and iron. Calcium, fiber, potassium and selenium are other nutrients essential for wellness, ...
growth, development, cell repair and disease prevention. Colorful foods, such as fruits and vegetables, are often the richest sources of nutrients. Taking a multivitamin once daily is a good way to supplement your diet.
More