Meat is farther away from the ultimate sources of prana because animals have to eat plants or other animals; they get their energy indirectly. As a result, the prana in meat is more gross. The particles of energy are dirtier, larger, and less refined, which means your body has to work harder to extract energy from meat. The prana in meat is also gross because the fear and trauma experienced by an animal when it is being slaughtered is trapped in its body. When you consume that meat, those negative emotional energies are absorbed by your solar plexus chakras and your aura.

Additionally, meat is often physically dirty due to the heavy addition of growth hormones to livestock feed and drugs given to animals to prevent illness and disease. A person with a meat-heavy diet tends to have a generally dirty aura. It may be large when you scan it, particularly the basic and navel chakras, but it's congested.

Certain sects of ancient chi kung masters and martial artists purposefully supplemented their training and energy-development exercises with a diet that was very heavy in meat inorder to develop their basic chakras and build up physical power for combat. They were indeed very energized and very powerful physically. In fact, they needed very little sleep. But because their energy bodies were filled with gross, unrefined energy, they were also very unbalanced energetically and emotionally. Their energy bodies had little room to absorb any higher-quality, refined spiritual prana. They also tended to die at a relatively young age, because their bodies were just worn out by the high level of contamination and gross energy.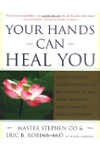 Continue Learning about Nutrition