Marketing terms are regulated but to date, unfortunately, not very well enforced, and again, these terms aren't typically a complete nutrition thought. For example, "Naturally fat free" could distract us from the fact the product is loaded with sugar. Deceptive claims abound: low-fat, high-fiber, light, no sugar added. Some brands have become more healthful. But many manufacturers are promoting a product's healthful ingredients while playing down its less nutritional qualities. Last year, the Food and Drug Administration (FDA) sent warning letters to 17 food manufacturers, many of which were household names, insisting they change the wording on their labels. Even Michelle Obama and the White House Task Force on Childhood Obesity have recommended that labeling on food packages be more clearly defined, yet they believe it should come from the companies regulating themselves.

Companies respond to consumer demand, so in order for them to self-regulate we need to demand that change by buying differently. In 2010, the Center for Science in the Public Interest, a nonprofit health-advocacy organization, published an alarming report called "Food Labeling Chaos" about just that -- the confusion over what labels claim. The changes currently being lobbied about in Washington, D.C., could take years to go into effect.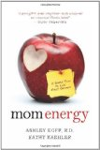 More About this Book
Mom Energy: A Simple Plan to Live Fully Charged
       From celebrated dietitian Ashley Koff and fitness trainer to the stars Kathy Kaehler comes Mom Energy, an exciting new way for moms to tap into their own natural and renewable sources of...
Serving size can be misleading for some products. For instance many sports drinks are bottled in "grab and go" packaging but usually contain more than one serving. If there is more than one serving, you will need to multiply the calories and nutrients by the number of servings indicated on the bottle to estimate the correct amount you consumed. No added sugar can also be misleading when the label on a can of fruit packed in fruit juice has grams of sugar listed on the label. Fruit contains natural sugar and therefore will be reflected on the food label.
Continue Learning about Nutrition