Whatever you have for breakfast, there's a way to add fiber to it. Have a serving of fruit, opt for whole-grain toast instead of white, add veggies to your omelet, make pancakes and waffles with buckwheat instead of white flour. Or -- and this is so easy -- pour a bowl of high-fiber breakfast cereal that contains at least five grams of fiber per serving. (Oatmeal contains only four grams per serving, but it's so good for you that it's an exception to the rule.)

Five grams may sound like a lot, but many brands offer even more than that. Bran Buds, All-Bran with Extra Fiber, and Fiber One contain 13, 13, and 14 grams of fiber per serving, respectively. If you don't like those, hit the cereal aisle and read those Nutrition Facts labels.

One thing to watch out for: added sugar. Even high-fiber cereals can pack a lot of it, which drives up the calories per serving. As a rule of thumb, the grams of fiber per serving in your cereal should be higher than its grams of sugar per serving. You can always add sweetness with fruit.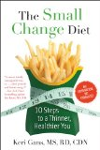 Some ways to add more fiber to your breakfast are: choosing a higher fiber dry cereal or using oatmeal as your breakfast cereal; choose the higher fiber breads that are available at your grocers; spread peanut butter, almond butter or sunflower butter on your higher fiber toast; add nuts to your cereal or yogurt; add fresh fruit like raspberries, sliced apple or sliced banana to your cereal or yogurt; or sprinkle flaxseed on your cereal or yogurt.
Continue Learning about Nutrition