The word "vegetable" comes from the Latin vegetare, meaning "to enliven or animate." The name is appropriate as vegetables do truly give us life. More and more evidence is accumulating to show that vegetables can prevent, as well as treat, many diseases, especially chronic degenerative diseases, such as heart disease, cancer, diabetes, and arthritis. Vegetables provide the broadest range of nutrients and phytochemicals, especially fiber and carotenes, of any food class. They are rich sources of vitamins, minerals, carbohydrates, and protein, and the little fat they contain is in the form of essential fatty acids.

In 1893, this question came before the U.S. Supreme Court. The court ruled that a vegetable refers to a plant grown for an edible part that is generally eaten as part of the main course, while a fruit is a plant part which is generally eaten as an appetizer, a dessert, or out of hand. Some typical parts of plants used as vegetables are: bulbs, such as garlic and onion; flowers, such as broccoli and cauliflower; fruits, such as pumpkins and tomatoes; leaves, such as spinach and lettuce; roots, such as carrots and beets; seeds, such as legumes, peas, and corn; stalks, such as celery; stems, such as asparagus; and tubers, such as potatoes and yams.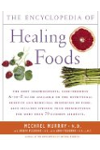 More About this Book
Encyclopedia of Healing Foods
From the bestselling authors of The Encyclopedia of Natural Medicine, the most comprehensive and practical guide available to the nutritional benefits and medicinal properties of virtually everything...
Continue Learning about Nutrition