Dietary fiber improves all aspects of colon function. Its role in maintaining suitable bacterial flora in the colon is of central importance. Low intake of fiber is associated with both an overgrowth of endotoxin-producing bacteria (harmful bacteria) and a lower percentage of Lactobacillus (beneficial bacteria) and other acid-loving bacteria. A diet high in fiber increases the synthesis of short-chain fatty acids, which reduce the colon pH, creating a friendly environment for the growth of acid-loving bacteria. Although dietary carbohydrates are the primary source of the energy we need to fuel bodily functions, the type of carbohydrates we choose to perform this task has consequences, both good and bad, that affect the entire body. In particular, it is clear that excessive carbohydrates, particularly simple carbohydrates and high-glycemic food, contribute to a wide variety of diseases and premature aging.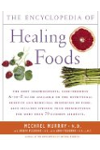 More About this Book
Encyclopedia of Healing Foods
From the bestselling authors of The Encyclopedia of Natural Medicine, the most comprehensive and practical guide available to the nutritional benefits and medicinal properties of virtually everything...
Continue Learning about Nutrition