Although dietary fiber increases the rate of transit through the gastrointestinal tract, it slows gastric emptying. This effect means that the food is released more gradually into the small intestine, and consequently, the blood glucose level rises more gradually. The secretion of pancreatic enzyme and pancreatic activity also increase in response to dietary fiber.

A number of research studies have examined the effect of fiber on mineral absorption. Although the results have been somewhat contradictory, it now appears that large amounts of dietary fiber (that is, more than 50 grams daily) may result in impaired absorption and/or negative balance of some minerals, and supplemental fiber at a higher dosage (for example, greater than 5 grams) of insoluble fiber, especially wheat bran, may result in mineral deficiencies. However, dietary fiber at the usual level or supplementation with soluble forms of dietary fiber does not appear to interfere with mineral absorption from other food.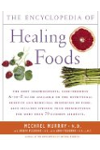 More About this Book
Encyclopedia of Healing Foods
From the bestselling authors of The Encyclopedia of Natural Medicine, the most comprehensive and practical guide available to the nutritional benefits and medicinal properties of virtually everything...
Fiber has been shown to relieve constipation by increasing stool weight and assisting stool passage in the large intestine. A high fiber diet increases the amount of bowel movements per day. The Harvard School of Public Health says that increased consumption of fiber should be accompanied by increased water intake because fiber absorbs water.

Fiber slows the rate of digestion and absorption in the small intestine. Some evidence suggests this delay in gastric emptying promotes the feeling of fullness for a longer period of time and decreases appetite. Also, the increase in time for digestion and absorption slows nutrient uptake and decreases glucose and insulin levels in the blood after consuming a meal high in fiber. The Institute of Medicine says that some studies support the hypothesis that the effect of fiber on nutrient absorption protects against type 2 diabetes.
Continue Learning about Nutrition