To keep your hair shiny and healthy, eat a diet that's high in protein and healthy fats, says clinical nutritionist Kimberly Snyder. One way to do that is by sipping Snyder's high protein, hair-nourishing shake. Get the recipe by watching this video.
There's not much hard science that shows a direct link between eating a good diet and having luxurious, healthy, shiny hair...but anyone who has pets knows that the better you feed your pets, the better their coats look. They feel softer and their sheen is brighter. The same may also be quite true for two-legged animals like us. There are several foods that may help your hair - even if you eat them rather than slathering them on your head.

First of all, the omega-3 fatty acids found in fish, distilled fish oils, or in DHA supplements from algae are the primary nutritional component that makes hair shinier. Other recommended foods: walnuts, flaxseeds, avocados, sardines, eggs, milk (skim), and green tea.

There's also a chance that laying off the burgers and steaks may help you keep your comb gainfully employed. There's a connection between balding and eating animal fat -- particularly red meat -- because high-fat diets lead to more dihydrotestosterone (DHT) production and more damage to hair follicles. Rather than red meat, you may want to make caffeine your vice if you're worried about losing your hair. Caffeine has been shown over time and through a series of reactions to decrease DHT levels. Get your caffeine via green tea, which has also been shown to help slow baldness by reducing DHT production.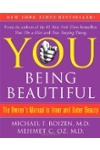 Continue Learning about Nutrition