Beans are chock full of soluble fiber to help lower insulin levels so you store less fat and also feel fuller. Eat 2 cups of red, white, or black beans to get your recommended daily fiber intake of 25 grams.
This content originally appeared on
doctoroz.com
Beans are a rich source of soluble fiber which has been proven to help reduce cholesterol especially LDL. Beans are also a lean source of plant protein. Due to their high fiber content, they fill us up and help with weight loss as well. There are many different types of beans available -- Garbanzo beans, Kidney beans, black beans, navy beans and more. Enjoy beans as part of a healthy diet.
The major health benefit of common beans is their rich source of cholesterol-lowering fiber. In addition to lowering cholesterol, the high fiber content of beans prevents blood sugar levels from rising too rapidly after a meal, making these beans an especially good choice for individuals with diabetes, insulin resistance, or hypoglycemia.

Common beans' contribution to heart health lies not just in their fiber, but in the significant amounts of antioxidants, folic acid, vitamin B6, and magnesium they supply. Folic acid and B6 help lower levels of homocysteine, an amino acid that is an intermediate product in an important metabolic process called the methylation cycle. Elevated blood levels of homocysteine are an independent risk factor for heart attack, stroke, and peripheral vascular disease and are found in 20 to 40 percent of patients with heart disease.

According to studies conducted by the U.S. Department of Agriculture, richly colored dried beans offer a high degree of antioxidant protection. In fact, small red kidney beans are rated the highest, just ahead of blueberries.

Beans are also protective against cancer. In one analysis of dietary data collected by validated food frequency questionnaires in 1991 and 1995 from 90,630 women in the Nurses' Health Study II, researchers found a significantly reduced frequency of breast cancer in the women who had a higher intake of common beans or lentils. That was not surprising; what was surprising was that only beans and lentils seemed to offer protection. Intake of tea, onions, apples, string beans, broccoli, green pepper, or blueberries had no protective effect. Eating beans or lentils two or more times per week was associated with a 24 percent reduced risk of breast cancer.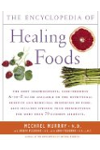 More About this Book
Encyclopedia of Healing Foods
From the bestselling authors of The Encyclopedia of Natural Medicine, the most comprehensive and practical guide available to the nutritional benefits and medicinal properties of virtually everything...
Continue Learning about Nutrition