7 Weight-Loss Foods To Buy at Trader Joe's
Cauliflower pizza crust and other prepackaged foods that won't blow your diet.
1 / 8
By Taylor Lupo
Losing weight comes down to one thing: burning more calories than you take in. Simple, right? If only! But making healthier food choices is a good place to start.
In a grocery aisle packed tempting foods, knowing what to add to your cart can be a challenge. But it doesn't have to be. We spoke with Tammy Baranowski, RDN, a licensed dietitian with Orange Park Medical Center in Orange Park, Florida, about some of the best foods to buy from Trader Joe's, a leading American grocery chain. These low-calorie foods are prepacked and require almost no effort to prepare.
Purge the unhealthy eats from your pantry and refrigerator and stock your kitchen with these instead.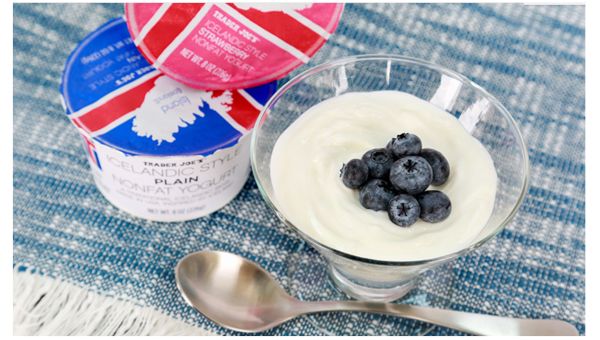 2 / 8

Icelandic-style plain nonfat yogurt

Baranowski's recommends picking up this healthy breakfast staple. "It's nice and creamy, and you get all of that protein without a whole bunch of saturated fat," she says. Icelandic yogurt, also knows as skyr, is similar to greek yogurt but a little less tart and slightly creamier. Top your yogurt with wholesome ingredients, like fresh fruit or unsweetened coconut flakes, and enjoy anywhere, anytime.

Each 8-ounce serving contains just 130 calories, 22 grams of protein and none of the hidden sugars some other brands have. Research suggests high-protein diets help you to feel full and satisfied for longer periods of time. They may even be better at helping you lose weight and keeping it off, compared with low-protein diets.

Age, sex and activity level determine how much protein you need. This calculator will help you find the right amount for you. Once you know, keep track of your intake with a pen and paper or phone application, like Sharecare. Download the app on your iOS or Android device, and log the size and quality of your daily meals.

Servings: One
*Cost: $1.39

*Availability and prices may vary by location and time of year. 3 / 8

Organic split pea soup

Another of Baranowski's favorites, this soup makes a simple, low-calorie dinner when you're crunched for time. Just heat for a few minutes on your stovetop and you're good to go.

Per cup, this organic soup contains just 130 calories and 6 grams of fiber. It's packed with fresh ingredients like peas, onions and carrots. Fiber, abundant in fruits, veggies, legumes and whole grains, helps regulate bowel movements. To keep your digestive system happy, strive to get the daily recommended amount of fiber—25 grams for women and 36 grams for men.

Punch up the fiber by pairing one cup of this soup with a slice of 70-calorie whole grain toast, or enjoy the whole container without the guilt.

Servings: One or two
*Cost: $3.99 4 / 8

Grilled chicken strips

Grilled chicken breast is a good source of lean protein—an essential part of a healthy diet—but we don't always have time to fire up the grill.

"I'm a busy, working mom, so I do look for convenient items that don't have a lot of additives and preservatives," Baranowski says.

Each 3-ounce serving of cooked and sliced chicken contains 120 calories and 26 grams of protein. Top your lunchtime salad with this low-calorie protein, prepared with a sprinkle of salt and pepper and a touch of oil. Other options? Heat and eat with steamed veggies, or stir into a bowl of whole grain pasta topped with olive oil and a sprinkle of chopped parsley and Parmesan cheese.

Servings: Four
*Cost: $5.49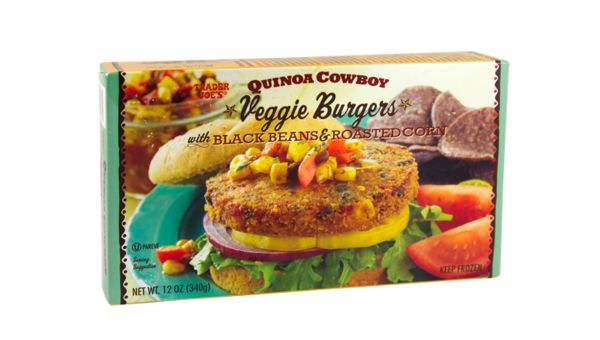 5 / 8

Quinoa cowboy veggie burger

The frozen food section at your local Trader Joe's is likely packed with foods that make healthy dining a breeze. These frozen veggie burgers are no exception. "The amazing frozen food is probably the biggest reason I go to Trader Joe's," Baranowski says.

Compared to a traditional beef burger, with 230 calories and 15 grams of fat, these veggie patties contain just 180 calories and half the fat. Enjoy on a slice of whole grain toast for a meal with just 250 calories, or with a dollop of mustard and sandwiched between two iceberg lettuce leaves.

The patty's 6 grams of fiber are an added benefit. Heat one up in the microwave or on the stove top and enjoy.

Servings: Four
*Cost: $3.69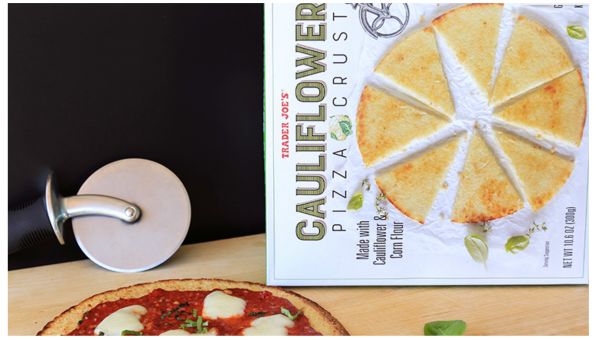 6 / 8

Cauliflower pizza crust

Pizza is an American staple, but a doughy crust layered with sauce and cheese is not always a diet-friendly combination. Now you can enjoying the same zesty flavor with fewer calories and carbohydrates.

"You could load your crust with veggies, a little olive oil and some marinara sauce, and that's a great family pizza night," Baranowski recommends.

A single slice—one-eighth of a typical 12-inch pizza topped with tomato sauce and cheese—has about 210 calories. A serving of this frozen cauliflower crust, about one-sixth of the pie, contains just 80 calories. Top each slice with 2 tablespoons of no-sugar-added tomato sauce and a sprinkle of low-fat mozzarella cheese (also available at Trader Joe's) for a guilt-free dinner with just over 100 calories per slice.

Servings: Six
*Cost: $3.99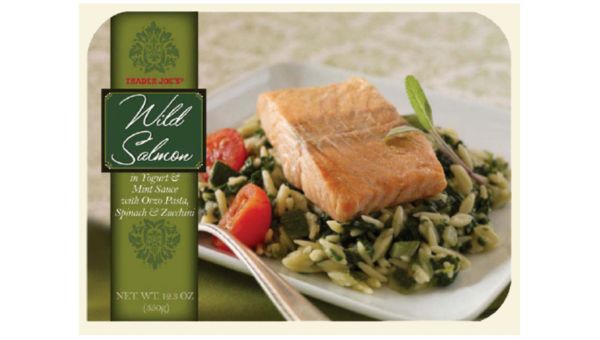 7 / 8

Wild salmon in yogurt and mint sauce

Frozen dinners are not typically a healthy dining choice, but this wild salmon and orzo combination is quite the exception. "It's really nice for taking to work when you're on-the-go," Baranowski says.

With just 350 calories and 24 grams of protein, this dish will help you power through your afternoon. Heat it in the office microwave and within minutes your taste buds will be transported from your workplace breakroom to a gourmet cafe.

Servings: One
*Cost: $4.49 8 / 8

Steamed and fully cooked lentils

Body Text: Skip the bean and pasta aisle and head straight to the produce department. These plump legumes are typically stocked in the refrigerator beside beets, kale, butternut squash and other nutrient-packed veggies.

Lentils are a great source of plant-based protein, 9 grams per half cup, but their biggest drawback is their lengthy cook time. But this variety is fully cooked and ready to eat. Open and rinse your legumes and enjoy a serving with just 120 calories and 8 grams of fiber.

Replace grilled chicken in your lunchtime salad with lentils, stir them into a store-bought soup or make them the star of your next dinner. How? Load a heaping spoonful into a wide, shallow bowl and layer in your favorite veggies, like roasted sweet potato, spinach, broccoli and beet. Top with a few slices of avocado for a show-stopping Buddha bowl.

Servings: Five
*Cost: $3.29

You've probably heard 'you are what you eat' at least a hundred times, but next time you do, don't dismiss it. Nutrition and weight loss are inextricably linked and without the proper diet plan, it won't matter how much exercise y...
ou do. Some foods, like hemp seeds, cinnamon and curry leaves are nutrient-dense and can help bust belly fat, while other seemingly healthier choices like 100-calorie bags of chips and boxed granola bars can sabotage weight loss. The key is to arm yourself with information and the questions below can help.
More