Healthier foods such as fruits, vegetables, lean proteins and multigrain products tend to stay with us longer so we don't fall prey to the hunger bug.

Make healthy food a habit. If that's all you have around and you're hungry, you will reach for it. Make your plate colorful. Half of your plate should be vegetables and fruits.

This is about respect and honoring your body. It is shortsighted to consistently choose the unhealthy option. Each time you choose the less-than-healthy option, wait a beat and think about what you are about to put into your body. Choose well. When you eat well-prepared food made with high-quality ingredients, a little goes a long way. The more you learn to listen to -- and honor -- yourself, the more it will extend to how you feed yourself.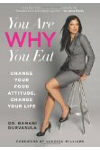 Continue Learning about Nutrition and Weight Loss