As a general guideline, consume about 25 to 30 percent of your daily calories from fat, and make sure the majority are the healthy unsaturated fats (monounsaturated, polyunsaturated, and omega-3 fats, rather than saturated fats). If you eat about 1,600 calories a day, that means 400 calories, or about 44 grams of fat (1 gram of fat contains 9 calories), and only 7 percent of those 400 calories should come from saturated fat. Keep in mind, however, that losing weight and keeping it off isn't about counting fat grams (or carbs, or calories, for that matter) each day. It's about creating that healthy plate. When it comes to fat, picture your healthy plate, then picture a napkin ring beside it. That's your mini "plate" for fat.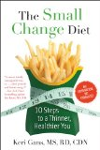 Most successful weight-loss plans call for a reduction in both calories and fat, although fat is probably not a critical component in obesity. Instead, overall calories and lack of physical activity, coupled with a sedentary lifestyle, are most important.

Still, healthcare professional and dietary guidelines recommend women moderate their fat consumption to 20 to 35% or less of total calorie intake, with saturated fats accounting for less than 10% and the rest comprised of equal amounts of monounsaturated fat and polyunsaturated fats. These fats come from vegetable, not animal, sources.
Continue Learning about Nutrition and Weight Loss