Here's how to have your sushi and eat it, too:
Start your meal with low-calorie miso soup or a side salad of mixed greens with dressing on the side.
Swap shrimp tempura or soft-shell crab rolls for California or shrimp/cucumber rolls.
Order sushi made with brown rice if available—not to save calories, but for the health benefits of whole grains.
Limit yourself to two rolls (yellowtail/scallion, tuna/avocado, etc.). Also, order only one roll that contains avocado.
If you order sushi that contains fish eggs (roe), limit yourself to one roll with roe. While roe contains just 20 calories per tablespoon, most rolls that use roe are the specialty kind, which will typically contain more than one tablespoon of roe. (If you eat six or eight pieces, the calories can definitely add up.)
Avoid sushi prepared with mayonnaise, such as spicy tuna rolls, or added sauce.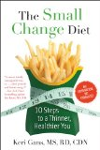 Continue Learning about Nutrition and Weight Loss