To enjoy pork without sabotaging your waistline, follow these tips:
For the leanest cut, look for the word loin, i.e., tenderloin, loin chops, loin roasts.
Remove most of the external visible fat on the pork before you cook it.
Cook pork using a low-fat cooking method, including roasting, grilling, broiling, poaching, or braising.
Pass up high-fat sauces. Rather, flavor pork with herbs and spices. Coriander, cumin, curry powder, dill, garlic, rosemary, sage, savory, and thyme all go well with pork.
Watch your portions. Like beef, the recommended serving size is three ounces.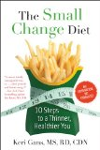 Continue Learning about Nutrition and Weight Loss