Here are ways to eat bread if you want to lose weight:
Sandwich bread: Try to stick with sliced bread of a standard-sandwich size—leave the oversized loaves on the shelf. My rule of thumb: per slice, 100 calories, max, and 3 grams of fiber, minimum.
Pita bread and wraps: Check the serving size on the Nutrition Facts label. One large wrap may count as two servings.
Bagels: Scoop out the inside and opt for low-fat fillings and spreads.
Specialty breads and rolls: French or Italian bread, or hard or soft rolls, shouldn't be an everyday choice—they're typically high in calories but light on fiber.
What about croissants, biscuits, and dinner rolls? Well, if you can find a whole-grain version with at least three grams of fiber, you can have it. But count it as your carb serving—have one, enjoy it, and stop.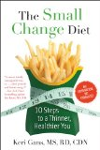 Continue Learning about Nutrition and Weight Loss