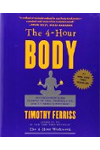 To keep your blood sugar under 100 mg/dL, just follow a handful of simple rules based on the literature and my personal tracking, in addition to the basic tenets of a slow-carb diet:
Eat decent quantities of fat at each larger meal. Saturated fat is fine if meat is untreated with antibiotics and hormones.
Spend at least 30 minutes eating lunch and dinner. Breakfasts can be smaller and thus consumed more quickly.
Experiment with cinnamon and lemon juice just prior to or during meals.