Rather than thinking about foods in terms of "good" and "bad," a real key to successful weight loss is to learn the skills that allow you to fit in any kind of food into your diet. Weight Watchers can teach you how to eat smart while still allowing for treats.

However, there may be certain foods that may trigger the urge to eat. Weight Watchers teaches you to avoid red-light foods until you feel you can handle them. For many people, sweets, such as chocolate, cake, or cookies, are red-light foods.

Generally speaking, you should also limit your intake of saturated and trans fats, cholesterol, added sugars, salt, and alcohol.

Weight Watchers offers a comprehensive approach to weight loss that can help you reach your goals.
There are five foods to avoid when you want to lose weight. Watch the video to find out what they are.





White sugar (or sugar period), white flour, white bread, white pasta, high fructose corn syrup are all No No's.
Who says you have to avoid any particular foods to lost weight? In this video, "Hungry Girl" author Lisa Lillien explains a simple principle for figuring out which foods might cause you to tip the scale and how to deal with them.
Fast foods, junk foods, and sugary drinks are the worst kind of foods to eat if you want to achieve a sense of fullness or satiety while reducing your caloric intake. The same applies to many foods that are made with refined flour or added sugar, and to most high-fat foods. These sorts of foods taste sumptuous and are loaded with calories. Because of this, you tend to eat so quickly that you have overeaten before you even feel full. Sit down to your typical steak and potatoes, pasta, pizza, fried chicken, or burger and fries when you are really hungry and you can easily eat three or four times your caloric requirement for that meal before you even feel a sense of satiety. In terms of calories, it takes an enormous quantity of those foods to fill your stomach, and because they become low-viscosity liquids once chewed and diluted with stomach juices, they pass through the digestive tract very rapidly, making you feel ready for more food a short time later.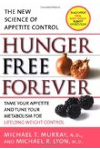 Continue Learning about Nutrition and Weight Loss