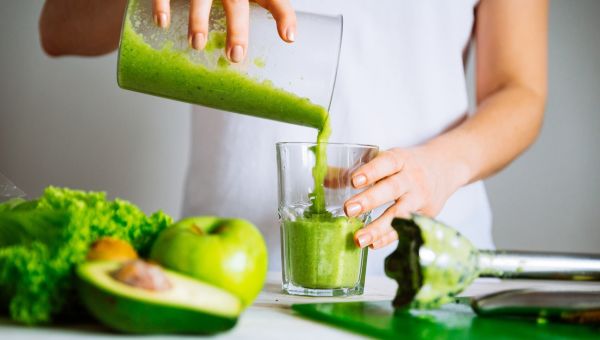 Want to feel fuller, longer? Try adding these fruits, veggies and other secretly satisfying ingredients to your blender.
Some smoothies aren't as healthy as you might think. Sure, a fruit and veggie-filled drink may seem like a good alternative to a carb-heavy bagel or a sugary muffin. But if you're overloading your blender, even with healthy ingredients, you could be consuming too many calories.
Not all smoothies are diet saboteurs, though. In fact, these simple tips can keep calories down and help you feel fuller, longer.
Laying a lower-calorie base
When you're making your smoothie, choose produce that will add substance and nutrients without a ton of extra sugar and calories. Leafy greens such as spinach and kale are smart picks. High in fiber, vitamin C and vitamin A, they typically range between 5 and 40 calories per cup.
Be choosey with your fruits, as some contain more sugar and calories than others. Strawberries and blueberries are good options, but measure out 1 cup and stop there. Keep in mind that you shouldn't blend more fruit than you'd be able to eat whole. One cup of blueberries contains 84 calories, while the same amount of strawberries is just 50 calories.
To save money and ensure a thick and frosty smoothie every time, bypass the produce department and head straight for the frozen fruit aisle. Frozen berries offer the same nutrients as their freshly picked counterparts; just be sure to reach for 100 percent fruit with no added sugars. Buying in-season fruits and veggies is another way to save some cash at the grocery store.
Choosing filling add-ins
Fruits and veggies are great, but why stop there? These blend-ins can help keep you feeling satiated and add an extra layer of flavor and texture.
Chia seeds: Simply sprinkle 1 tablespoon of this poppy seed lookalike into your smoothie for a boost of heart-healthy omega-3 fatty acids. It adds about 60 calories, but you'll also get almost 20 percent of the recommended daily intake of fiber, which can help you feel fuller and prevent overeating later. Fiber promotes regularity, as well, and some research suggests upping your intake may help you drop pounds.
Protein powder: A single scoop of whey, pea or soy protein carries about 100 calories and over 20 grams of protein. Adding it to your breakfast smoothie may help satisfy your hunger throughout the morning—and then some. One 2013 study of obese and overweight teenaged girls in the American Journal of Clinical Nutrition found that a protein-rich a.m. meal satisfied hunger and improved eating choices the entire day.
Since there is a wide variety of protein powders available, do a little research beforehand so you know what you're shopping for—and to find the right option for you.
Avocado: Don't be scared off by the fat content of avocados. Moderate consumption of healthy fats is a necessary part of a healthy diet, and some studies suggest they can even be part of a weight loss regimen.
One-fifth of an avocado contains about 50 calories, along with 10 percent of the recommended daily intake of fiber and good-for-you monounsaturated fats. Pair with frozen berries and a handful of greens for a refreshing, creamy smoothie.
Medically reviewed in December 2019.
Sources:
SELF Nutrition Data. "Kale, raw," "Blueberries, raw," "Strawberries, raw," "Soy protein isolate," "Whey protein powder, 1 scoop," "Avocados, raw, all commercial varieties."
American Heart Association. "Fresh, Frozen or Canned Fruits and Vegetables: All Can Be Healthy Choices!"
MedlinePlus. "Healthy food trend – chia seeds."
Y Ma, BC Olendzki, et al. "Single-Component Versus Multicomponent Dietary Goals for the Metabolic Syndrome: A Randomized Trial." Annals of Internal Medicine. 2015;162:248–257.
HJ Leidy, LC Ortinau, et al. "Beneficial effects of a higher-protein breakfast on the appetitive, hormonal, and neural signals controlling energy intake regulation in overweight/obese, "breakfast-skipping," late-adolescent girls." American Journal of Clinical Nutrition. 2013 Apr;97(4):677-88.
Mayo Clinic. "Whey Protein: Overview."
ML Dreher & AJ Davenport. "Hass avocado composition and potential health effects." Critical Reviews in Food Science and Nutrition. 2013; 53(7), 738–750.
FamilyDoctor.org. "What It Takes to Lose Weight."
Sara La Jeunesse. "Monounsaturated fats reduce metabolic syndrome risk." Penn State News. March 29, 2013.