Essentially, when you're pregnant, you only need to eat 10 percent more than the number of calories you ordinarily eat to maintain your weight. The issue really becomes one of balance. You need to make sure that you get enough calories to feed your baby with the proper nutrients, but you also need to make sure you don't overwhelm her with a fat-flooded placental buffet that will negatively influence her future health. What complicates the matter is that how you feel may not be in sync with what your body needs at any given time. When you're sick and don't feel like eating, you may very well need to. And when you're famished and craving Ding-Dongs and pizzas, it's probably time to pull the reins and slow down. Some women assume they're justified to eat all they want because they're carrying a baby. See, when you become pregnant and think about your eating habits, the instinct -- or at least the rationalization for many -- is to follow this formula: My nutritional needs plus the baby's nutritional needs equals "I'll have a mashed-potato sandwich with cheese, and make it a double."

Right here, right now, let's make a deal to take the "eating for two" mantra and pack it right into our conversational diaper genie -- never to see it, speak it, smell it, or think it ever again. The truth is that when you actually follow the science and look at adequate calorie consumption for growing a healthy baby, the more accurate principle that pregnant women should follow is "eating for 1.1."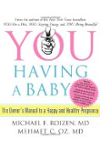 When you are pregnant, a surge of hormones -- such as human placental lactogen (HPL) -- changes the way your body processes energy, stores fat, and delivers nutrients to your baby.

You need extra energy to grow another human. But before you put Burritos R Us on speed dial, be aware that the boost doesn't exactly translate to "eating for two." In fact, a more accurate guideline is "eating for 1.1." Essentially, when you're pregnant, you need to eat only 10% more than the number of calories you ordinarily eat.
Your daily needs do not double when you are pregnant. In general, your calorie needs go up by ~300 calories/day and protein needs go up to 70grams/day.
Continue Learning about Nutrition & Pregnancy