I know that your eating habits can flip-flop and that shifting hormone levels can steer you in odd directions. That's okay. While it is your job to provide a good nutritional environment for your growing baby, you don't have to feel badly if you occasionally stray off the straight and narrow path of good nutrition. The important thing is to eat well most of the time.

The truth is that you don't need to stop and count every milligram of every nutrient of every food that you eat. If you take a good prenatal vitamin with DHA, you likely have the basics covered. But that doesn't give you a free pass to eat "whatever" for 40 straight weeks.

Make your best effort to eat healthfully, but accept that you're going to deviate a bit over the 40 weeks—nobody's perfect. In fact, slight deviations here and there are actually preferable to the alternative—stressing out over every single stray chocolate chip that somehow finds a home in your belly. If you have a day of indulgent, crazed eating, tell yourself that one day won't hurt you and that you need to get back on track. What kills any regimen of healthy eating isn't the occasional dessert or pizza binge; it's the cascade of behavior that happens after the initial indulgence.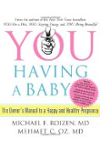 Continue Learning about Nutrition & Pregnancy