The aim of nutrition during pregnancy is to nourish both mom and baby. Focus on the nutritional quality of your diet rather than thinking you're 'eating for two'.
This means making sure that each day you are eating a variety of food from each food group - fruits, vegetables, protein (such as meat, fish, beans, tofu, egg), wholegrain carbohydrates (such as rice, bread, pasta) and dairy or non-dairy alternative (such as milk, cheese, yogurt). This will provide mom and baby with the variety of nutrients, vitamins and minerals you both need for health and growth. Discuss the use of vitamin and mineral supplements with your doctor.
The danger with thinking you're 'eating for two' is that you may be increasing calorie intake only and not providing the vital nutrients. This can lead to excessive weight gain which may be harmful and can be difficult to lose post pregnancy.
Good nutrition is perhaps more important during pregnancy than at any other time in a woman's life, not simply on account of the health of the child, but also because a child's gestation makes tremendous demands on the mother's body. Eating right can help ensure that essential nutrient levels aren't drained from the mother in response to the baby's needs. In addition, a diet rich in fruits and vegetables can help expectant mothers avoid unnecessary weight gain, and thus avoid risks to both their and their child's health. Plus, this kind of diet will make it easier for the mother to return to a healthy weight after delivery.
You should expect times when you'll feel like feasting and times when you feel like fainting. That said, it's smart to be aware of what your basic nutritional goals should be (though not to feel guilty if you don't hit them every day). You should strive for:
- 9 or more serving (fistfuls) of fruits and vegetables
- 3 or more servings of whole-grain and other grain products
- 3 or more servings of lean protein in the form of lean meat, poultry, low-mercury fish, eggs, nuts, beans, lentils, and tofu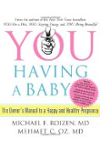 Continue Learning about Nutrition & Pregnancy