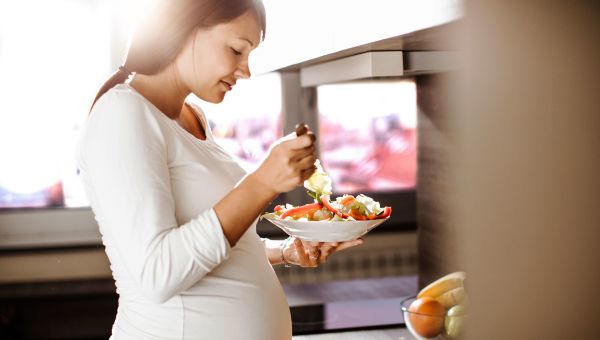 Research suggests that a woman's diet during her pregnancy can shape her child's food choices.
We know moms-to-be are aware of the importance of staying healthy for themselves and the health of their baby, but it's easy to overlook how powerful your food and supplement choices are on the future health of your child. In an analysis of more than 40 studies on kids' food preferences, researchers determined that flavors from a pregnant woman's diet actually reach the fetus and shape food preferences.
Lead author of the analysis, Stephanie Anzman-Frasca, PhD, says, "These early exposures familiarize the baby with specific flavors as well as the experience of variety and set the stage for later acceptance of healthy flavors in solid foods."
So, if you're enjoying broccoli, dark greens like kale and good-for-you salmon while you're pregnant, your fetus will experience those flavors and learn to love them! Then when you start feeding your child solid foods, the battle over vegetables and salmon will be won before it even begins!