Triage is the French word for "sort," says Lynn Tadlock, RN, of Los Robles Hospital & Medical Center. In this video, she explains how triage works to efficiently treat patients and reduce wait times.
The term triage actually means "to sort." The triage nurse will get a short history from you about your symptoms, when the symptoms started, your drug allergies and current medications. The triage nurse will also get a set of vital signs which will include a temperature, blood pressure, heart rate, respiratory rate, and oxygen saturation.
The triage nurse, based on your complaint and what your vital signs are, will determine where the most appropriate place in the emergency room is. Many emergency rooms have a "fast track" where patients may be sent if they have illnesses that can be assessed and treated quickly. Otherwise, if the patient will possibly need a work-up with labs, x-rays, IV fluids, etc., the patient will be triaged into a room in the emergency department where higher acuity, or more complex, complaints are sent.
The first medically trained person that you will be evaluated by at the emergency room (ER) is the triage nurse. Make sure that when you are seen by this nurse that you clearly describe the problem, using as few words as possible. There's a big difference between "I've got a pain in my arm" and "I have a pain in my left arm, radiating to my back and chest. And I feel short of breath." The first comment will get you a number and a seat. The second will get you immediate entry. If the problem is serious, and potentially life threatening, you need to make this known.

Here's another example: "I feel kind of tired and lightheaded. I get like this sometimes and then I'm okay," or "I feel weak and lightheaded and I'm a diabetic. My last blood sugar reading was 50." The addition of the word "diabetic" along with your blood sugar reading makes it clear that the problem could be potentially serious. Got the picture? But do not lie in order to be seen quicker, you may end up with a lot of tests or even admitted unnecessarily to the hospital!

The triage nurse will also take your vital signs. It's important to know that your vital signs reveal a lot about your present health status. Certain results will trigger immediate attention. The triage nurse may also order tests, based on "standing orders" already in place for certain signs and symptoms. So yes, you can get an ankle x-ray before being examined by the EM doctor when a standing order for ankle trauma is in place. If you have to use the bathroom, ask if a specimen may be needed. If a urine test is likely to be ordered, you'll be given a container and instructions.

If you are pregnant or could be pregnant, speak up. This information is important. There are certain x-rays and medications women shouldn't receive when pregnant.

If you have been treated in the hospital before, whether as an inpatient or in the ER, tell the triage nurse so your 'old' medical records can be accessed, if necessary.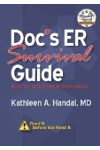 More About this Book
Doc's ER Survival Guide (DocHandal's Guides)
Few people get through life without at least one trip to the emergency room (ER), either as a patient or support person for a family member or friend. Doc's ER Survival Guide is designed to help...
Continue Learning about Nursing