Allergic rhinitis is an irritation of the nasal passages. Allergens in your environment can cause allergic rhinitis. If you are outdoors, plants or their pollen could bring on rhinitis. Indoors, dust, mold or animal dander could be the cause.
The symptoms of allergic rhinitis are similar to symptoms of the common cold. If you have allergic rhinitis, your sinuses will be irritated. Your nose may either run or feel stuffy. Sneezing is also common, and your eyes may water.
Sensitivities to certain allergens usually run in the family, so if your family members suffer from allergic rhinitis, you may be at risk, too. You can decrease your risk of allergic rhinitis by avoiding the substances that bother you, if possible. If you cannot avoid the allergens, some over-the-counter medications can help you manage your symptoms. Look for corticosteroid sprays or antihistamines.
Symptoms of allergic rhinitis include sneezing, sinus pressure and congestion, runny nose, and itching in the nose, eyes or on the roof of the mouth. These symptoms may mimic those from a cold virus. However, allergic rhinitis (also called hay fever) occurs during the seasons when a person is allergic to outdoor allergies and may occur year-round in a person with indoor allergies.
The symptoms of allergic rhinitis have two phases. In the first phase, short-term mediators such as histamine and rapidly synthesized leukotrienes and prostaglandins cause itching, sneezing, runny nose and congestion. In the second phase, many of these same symptoms are renewed along with an increased sensitivity to allergens, which doctors call priming.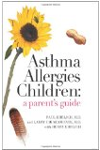 More About this Book
Asthma Allergies Children: A Parent's Guide
Asthma and allergies are at epidemic proportions. It doesn't have to be that way. Two experienced pediatric allergists tell everything a conscientious parent needs to know about these conditions,...
Allergies, sometimes referred to as allergic rhinitis, are a very common health problem involving an inappropriate response of our immune systems to allergens (substances that can induce allergic reactions). There are both outdoor and indoor allergens. Aside from different types of pollens and molds, allergens can include animal dander and dust mites.
Continue Learning about Nose Disorders