Other treatments for acute migraine pain include the ergotamines, which because of their risks and adverse effects are now used less often than triptans. Also, narcotics are still used, but they should be avoided when possible and used only under careful monitoring because there is a high risk of dependency. Narcotics are not more effective for migraines than other medications.
Some medications for acute headaches (even over-the-counter drugs) should not be used more than twice a week because more frequent usage may lead to daily rebound headaches. As the rebound headaches become more frequent, they often become more severe. This can lead you to need medication daily, increasing the frequency and severity of headaches in a vicious circle.
Preventive medication, which can help to avoid or treat migraines and rebound migraines, is usually taken every day. Most preventive medication is safe and can be used at dosage levels that control headaches but have minimal negative effects. Both riboflavin (B2, 400 mg per day) and magnesium (300 mg per day) have been found to be effective preventive nonprescription medications. Both are safe and have few adverse effects, although magnesium may cause diarrhea. Either or both of these medications can be used preventively for migraines, alone or with prescription drugs. Another over-the-counter drug is coenzyme Q10 (150 mg per day), which is also safe and may be effective, although it is more expensive.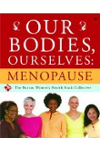 More About this Book
Our Bodies, Ourselves: Menopause
FROM THE EDITORS OF THE CLASSIC "BIBLE OF WOMEN'S HEALTH," A TRUSTWORTHY, UP-TO-DATE GUIDE TO HELP EVERY WOMAN NAVIGATE THE MENOPAUSE TRANSITION For decades, millions of women have relied on Our...
Continue Learning about Nonsteroidal Anti-inflammatory Drugs