There is no generic version of Acuvail 0.45% ophthalmic solution available in the U.S. However, Acuvail 0.45% ophthalmic solution is available outside the United States. The active ingredient is called ketorolac tromethamine, and Allergan holds the patent as of 2011. There is a generic version of Acular, which has the same medication as Acuvail but has 0.4% & 0.5% concentrations of ketorolac tromethamine ophthalmic solution.


Continue Learning about Nonsteroidal Anti-inflammatory Drugs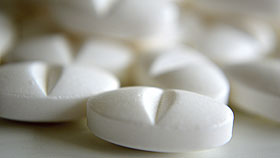 Nonsteroidal anti-inflammatory drugs, such as ibuprofen and naproxen, are used to reduce inflammation from such conditions as arthritis, back pain or tendinitis. Available over-the-counter, NSAIDs are one of the most common type o...
f medications.
More