Major side effects can occur from the long-term use of non-steroidal anti-inflammatory drugs (NSAIDs). NSAIDs include ibuprofen drugs like Motrin and Advil or naproxen sodium drugs like Aleve. The risk is greatest when the long-term use is at high doses. Some side effects include heart attack and other heart problems, stomach upset and ringing in the ears. Liver and kidney damage are possible, as well.
Continue Learning about Nonsteroidal Anti-inflammatory Drugs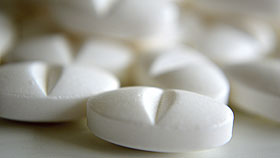 Nonsteroidal anti-inflammatory drugs, such as ibuprofen and naproxen, are used to reduce inflammation from such conditions as arthritis, back pain or tendinitis. Available over-the-counter, NSAIDs are one of the most common type o...
f medications.
More