Non-steroidal anti-inflammatory drugs (NSAIDs) are a type of medication that doctors and other healthcare providers often recommend to reduce inflammation and pain. They are available over-the-counter (OTC) as aspirin, ibuprofen (Advil, Motrin IB, Nuprin), ketoprofen (Oruvail, Orudis), and naproxen sodium (Aleve). For more severe pain and inflammation, doctors may prescribe one of several dozen NSAIDs available in prescription strength. Like all medications, all NSAIDs can have side effects.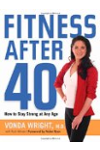 More About this Book
Fitness After 40: How to Stay Strong at Any Age
It's one of the undeniable facts of life. After we reach a certain age, our bodies change. No matter how fit we may have been at 20, we're very different people after 40. But growing older doesn't...
Continue Learning about Nonsteroidal Anti-inflammatory Drugs