Meloxicam is a prescription nonsteroidal anti-inflammatory drug (NSAID) that helps relieve osteoarthritis pain, inflammation, swelling and stiffness in the joints. Osteoarthritis occurs when the cartilage that supports and cushions the joints of the hands, spine, hips and knees wears away, causing bones to rub against each other.
As the cartilage becomes increasingly damaged, chemicals called prostaglandins are released, which cause nerve endings to send pain signals to the brain. Meloxicam stops prostaglandin production to reduce pain. If you have a history of heart disease taking meloxicam may increase your risk of heart attack or stroke. Also, tell your doctor or pharmacist what other medications you are taking to avoid potentially dangerous drug interactions.
Inflammation is one of the driving forces behind the joint pain and other symptoms experienced by people who have osteoarthritis. To bring inflammation under control, doctors usually prescribe medications called nonsteroidal anti-inflammatory drugs (NSAIDs) such as meloxicam (Mobic). NSAIDs work by blocking substances produced by the body called prostaglandins, which contribute to inflammation and pain.
Continue Learning about Nonsteroidal Anti-inflammatory Drugs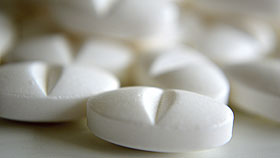 Nonsteroidal anti-inflammatory drugs, such as ibuprofen and naproxen, are used to reduce inflammation from such conditions as arthritis, back pain or tendinitis. Available over-the-counter, NSAIDs are one of the most common type o...
f medications.
More