Ibuprofen (Advil, Motrin) is a nonsteroidal anti-inflammatory drug (NSAID). Like other such drugs, it may increase the risk for cardiovascular problems such as a heart attack or stroke. These can happen without warning and can be fatal. The risk begins in the first weeks of use and increases for those taking NSAIDs for long periods. Tell your doctor about any of the following:
if you or anyone in your family has a history of heart disease, heart attack or stroke
if you smoke
if you have a history of high cholesterol, high blood pressure or diabetes
if you are having a coronary artery bypass graft (CABG), a type of heart surgery (don't take ibuprofen right before or right after the surgery)
if you develop symptoms including chest pain, shortness of breath, weakness in one part or side of your body, or slurred speech
Continue Learning about Nonsteroidal Anti-inflammatory Drugs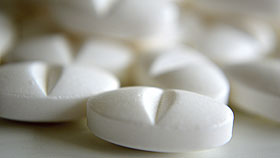 Nonsteroidal anti-inflammatory drugs, such as ibuprofen and naproxen, are used to reduce inflammation from such conditions as arthritis, back pain or tendinitis. Available over-the-counter, NSAIDs are one of the most common type o...
f medications.
More