Most of the reported dangers of energy drinks point to excessive caffeine -- a fact disputed by the trade organization representing non-alcoholic beverage makers in the United States. According to the organization, most mainstream energy drinks contain only about half the caffeine of a similar size cup of coffeehouse coffee. Caffeine is said to be a safe ingredient that is consumed every day in a wide variety of foods and beverages, including energy drinks.

However, doctors suggest that while most energy drinks contain the same amount of caffeine as is found in coffeehouse servings, consuming two or three coffeehouse servings is less likely than consuming two or three energy drinks. In addition, people drink larger amounts of energy drinks at one time.

Younger people typically don't consume coffee for various reasons -- cost, taste, etc. -- and adults are more likely to stop drinking coffee before too much caffeine is consumed.
Continue Learning about Non-Alcoholic Beverages & Health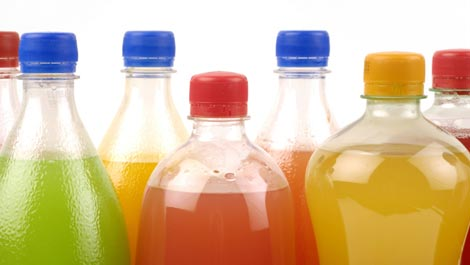 Beverages of the non-alcoholic variety include: juices, sodas, milk, tea, coffee and energy drinks to name a few. While these drinks have a variety of health benefits, it is helpful to lookout for the ones that are low in sugar. S...
odas and artificially sweetened juices are high in sugar and can pack on the pounds. Plus many beverages contain caffeine, which can have adverse effects as high doses. Many beverages provide great resources of antioxidants, nutrition and vitamins.
More