If you feel that you must have a soda with your meal, only drink half of it. Or ask the server to add more ice than soda. Better still, let water be the drink of choice at mealtimes. For that extra kick, try sparkling water with a wedge of lemon or lime. Cutting calories couldn't be simpler or more refreshing! By simply substituting water for soda with lunch or dinner, you can eliminate 150 calories without batting an eye. Plus water is necessary for the breakdown of fats into fatty acids for energy and releasing fat as heat and water. So if you're not well hydrated, your brain will be starved of energy and your fat cells will be unavailable for use.

Continue Learning about Non-Alcoholic Beverages & Health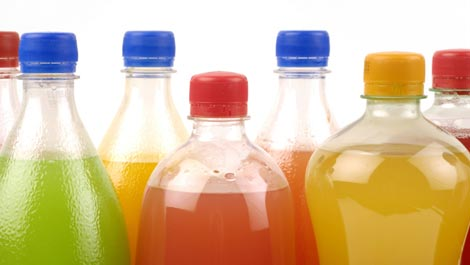 Beverages of the non-alcoholic variety include: juices, sodas, milk, tea, coffee and energy drinks to name a few. While these drinks have a variety of health benefits, it is helpful to lookout for the ones that are low in sugar. S...
odas and artificially sweetened juices are high in sugar and can pack on the pounds. Plus many beverages contain caffeine, which can have adverse effects as high doses. Many beverages provide great resources of antioxidants, nutrition and vitamins.
More