Trigeminal neuralgia causes sharp, "electric shock like or stabbing" pain on one or both sides of the face and can be worsened by yawning, chewing, shaving or just touching the face. It is rare in MS patients, occuring in less than 1 % of cases.
Momentary sharp jabs of electric or lightning like pain following a nerve root down one side of the face occur in some patients. When the pain follows the trigeminal nerve in the face, it is called trigeminal neuralgia (or tic douloureux in French). It can be triggered by eating, talking, shaving, washing the face, brushing the teeth, or touching the face at the trigger spot. Trigeminal neuralgia occurs in three areas: (1) forehead and eyeball, (2) cheek and nose, midface, and upper lip, and (3) lower jaw and chin. This symptom, however, is also a symptom of diseases other than MS. (Face pain can also result from minor disorders such as a bad bite.) In fact, only about 3 percent of those with trigeminal neuralgia have multiple sclerosis (MS).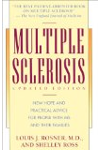 More About this Book
Multiple Sclerosis
Too often, multiple sclerosis is thought of only as "the crippler of young adults." But in fact, 75 percent of all people with MS will never need a wheelchair. In Multiple Sclerosis, Dr. Louis J....
Continue Learning about Neuralgia