We know from experiments with rats that the vagus nerve plays a role in overall immunity. When they're given an infection in the gut, the rats go into septic shock. Their blood pressure drops, their organs fail, and then they die. Now give the rats the same exact infection and cut the vagus nerve. What happens? Bingo. They live. By cutting (or controlling) that message system, you haven't eliminated the infection, but you've altered the rat's brain's response so that it doesn't get the message that this infection's a doozy and doesn't kick off a huge immune reaction. Luckily, we don't have to cut our own nerves to get a similar effect.

If you can do things to regulate your vagus nerve, you can block some of the bad stuff that you're feeling, whether it's caused by stress, infection, or sun-hot coals. Fire walkers, for instance, have figured out a way of meditating to change how the vagus and other nerves interpret the world around them to block not just the pain but also the blisters and other bad stuff that would happen if we mere mortals attempted the same thing.

Now, I'm not suggesting that you can will away strep throat or think good thoughts to banish pink-eye. But I am suggesting that manipulating this very powerful—repeat, very powerful—connection between the gut and the brain may be one of the ways you can quiet the high-level inflammation and immunity challenges that can have a detrimental effect on your health.

The vagus remains a mysterious nerve in your body, but thanks to new insights about it and data that seem to indicate its power, we're starting to understand not only that meditation (or, as I prefer to call it, training your vagus) might work, but how it works to influence your immune system and aging.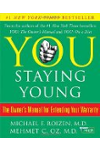 Continue Learning about Nerves