There is no one position that will be best for those will back pain. Some people with back problems find that sleeping on their side, curling their knees up towards their belly, is helpful. You did not get back pain from sleeping wrong, so it is very unlikely that you will worsen your back pain by any sleep position.
If you have neck and back pain, you should sleep on your back or your side, and sleep with a pillow between your legs to align your spine. In this video, sleep expert Michael Breus, PhD, discusses the sleep positions that are best if you have pain.
One major complaint is from patients who frequently wake up in the morning with neck or lower back pain. The question they ask is, "What is the best position for sleeping?" If you have acute neck pain, you want to lie flat on your back with your shoulders and neck slightly elevated. This will usually take two pillows, one placed at the top of the shoulders and a second thicker pillow to support your head and neck.
When you have acute lower back pain, you must find a position that relieves the pain and at the same time supports the lower back. A commonly recommended position is lying flat on your back with a thin pillow under your neck and a thick pillow under your knees.
This position is supposed to take pressure off the lower back, and although it is comfortable for brief periods, because the full pressure of your body weight is bearing straight down on your back, you may find it difficult to stay in this position for an entire night's sleep. By rolling partway to the side (the side opposite the pain, if one side of your back hurts worse) and placing a thick, long body pillow behind your spine, you can relieve the pressure and support your lower back at the same time. This position should allow you to get a much more comfortable night's sleep.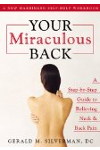 Continue Learning about Neck Pain