Learning which behaviors trigger the head to move forward and either modifying those behaviors or your neck's response to them is important to completely fixing neck pain or headaches. Throughout the day, monitor your neck and correct excessive forward-head or extended-neck positions. I've found the best way to do this is to set up a system of reminders such as stickers on the computer, phone, clock, dashboard of your car -- anything you look at frequently. Wear a special bracelet or ring or your watch on the opposite wrist to remind you to periodically check in on your head and neck position.

Driving is an activity that can really pull your neck forward. This is because it can be a fairly stressful activity depending on road conditions, traffic, and the demands of your schedule. Put a sticker on the dashboard to help you remember to stay calm and check in on your neck posture. Every time you see that sticker, you can do a quick check of your neck position and fix it by lengthening the muscles at the base of your skull.

If you work out at a gym, you have probably noticed that the TVs are up high on the walls. You must look up to watch them, which promotes excessive neck extension. Simply don't do this. Find something else to occupy your mind for the 20 or 60 minutes while you are training. Once your neck pain or headache issue has resolved, you can go back to watching TV, but for the time being, focus on eliminating all the habits in your life that feed your pain.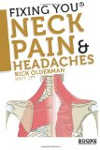 Continue Learning about Neck Pain