Adopting the following measures can help alleviate physical problems:
Wellness strategies such as eating well, getting enough rest and exercise, meditating, and participating in relaxing activities. A healthy body and a calm mind helps you to be resilient
Spiritual work, including meditation, prayer, and involvement in a religious community
Creative activities, alone or with others: dancing, singing, arts and crafts, and reading novels, biographies, or magazine articles for fun or to learn about a dilemma or problem you are facing
Support, self-help, or common-interest groups. Many groups exist that address various problems and challenges—becoming a new mother, recovering from addiction, growing older, choosing parenthood as a lesbian, understanding self-injury, living with a particular illness or disability, or separating from a long-term relationship. At their best, these groups help people to feel less alone and to see individual concerns within a larger societal context.
Friendships and community. Find and reach out to a community of family, friends, neighbors, and spiritual advisers with whom you can celebrate and grieve over life transitions. Sometimes, a good listener is what we need most
Working for social or political change. Working to change social and economic factors that make life difficult, from expensive day care to racial discrimination on the job, can be meaningful, especially when what you try to change is causing you pain.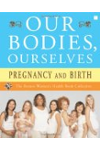 More About this Book
Our Bodies, Ourselves: Pregnancy and Birth
ALL THE INFORMATION YOU NEED TO MAKE WISE DECISIONS ABOUT YOUR PREGNANCY AND THE BIRTH OF YOUR CHILD -- FROM THE EDITORS OF THE CLASSIC "BIBLE OF WOMEN'S HEALTH" Pregnancy and birth are as ordinary...
Continue Learning about Natural Wellness Techniques & Treatments