Some older drugs have their drawbacks; so do new ones for that matter. Older antihistamines, nonprescription Benadryl and Chlor-Trimeton, and prescription Atarax -- hydroxyzine -- cross the brain-blood barrier, for example, which makes you drowsy.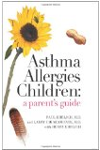 More About this Book
Asthma Allergies Children: A Parent's Guide
Asthma and allergies are at epidemic proportions. It doesn't have to be that way. Two experienced pediatric allergists tell everything a conscientious parent needs to know about these conditions,...
Continue Learning about Nasal Agent